Today, you look at the saree and think that everyone wears it the same way.  Not so. The saree has undergone many transformations. Its original avatar was without blouse or petticoat.  Just a single drape over the body– either in cotton or silk. This was perfect for our tropical weather. Soft and airy, the saree shifted and flowed with our every movement.  We draped it according to region, climate, caste and occupation.
Take a look at the drapes below and you will see what I mean.
Today, women all over India wear the Nivi, a style of saree draping that originated in Andhra Pradesh. Prior to that, even when hand-stitched blouses had made their appearance, women used to wear a saree style that was described as fishtail.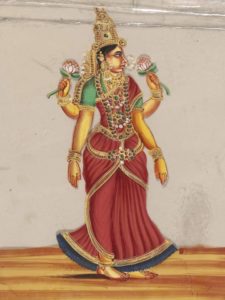 The current saree style is attributed to Jnanadanandini Debi, the wife of Satyendranath Tagore, whose brother was the Nobel-prize winning poet.  Once, Debi was not allowed entry into a British club because she was clad in a saree sans blouse as was normal for that time. Stung, she decided to wear a blouse and a chemise underneath her saree.  Tagore encouraged his wife to adopt this style.
Later, the maharanis of Rajasthan, notably Gayatri Devi, took it to the next level with their chiffons.
However, it was only after Nargis Dutt, Vyjayanthimala and other Bollywood heroines adopted this style that it became the norm.
The saree's modern avatar was here to stay.