Where did bandhini come from?
Every ancient culture, be it Egypt or Peru or India worked with textiles to decorate and improve it. The simplest way to ornament textiles was to dye the fabric into different colours. Then came the resist dyeing. This was a bit more complicated. You knotted certain sections of the fabric with thread or yarn to prevent the dye from reaching these sections. You dyed the fabric, then removed (or opened) the knots and voila, you got resist patterns. Ancient Egyptians did it by dipping the fabric in wax and then drawing designs on the fabric– somewhat like the batik of Indonesia. In Peru, India and Japan, the tie-dye methods were called by different names: Shibori, tenido or bandhej/bandhini, or sungudi in Tamilnadu.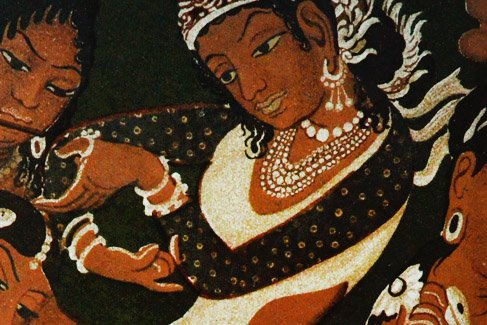 In India, bandhini can be seen in the 6th century Ajanta caves. Look to the right. Do you see the bandhini dupatta on the icon in the Ajanta caves?
The bandhini technique is also referred to in a 7th century work called Harshacharita by Banabhatta. In this, royalty was said to be wearing fabric with dots made out of knots. It creation story includes many fanciful tales such as the below.
" MANY YEARS AGO, A HOLY MAN WENT TO A KHATRI'S HOUSE, AND AS THE STORY GOES, THE SADHU WAS DOING HIS MEDITATION (JAP) AND KNOTS FORMED ON THE CLOTH THAT WAS MEANT TO BE DYED. THE CLOTH WAS DYED JUST THE WAY IT WAS, AND WHEN THE KNOTS WERE OPENED, THE PATTERN THAT EMERGED WAS BEAUTIFUL, SO THE KHATRIS PAID ATTENTION TO THE WAY IT WAS FORMED AND THEN CONTINUED WORKING ON IT. THIS WAS LATER KNOWN AS BANDHANI."

AZIZ KHATRI, NAKHATRANA. SOURCE: KHAMIR