Dozens of my friends in the South– Chennai, Bangalore and Hyderabad– love cotton sarees and especially those from Bengal. They may have their Coimbatore and Chettinad cottons but Bengal weaves are special.
Cottons are like babies though. They need care. Most homes have an ecosystem that helps a woman care of her precious jamdanis, tangails, and other summer sarees.
There is the dhobi who starches her sarees with rice starch– made at home when rice is cooked in a vengala panai or kansa pot– mixture of bronze and brass. The cook is given strict instruction about the consistency of the rice starch that comes out of these pots. All sarees are washed at home either with soapnuts (ritha) or very mild detergent. Usually by hand– not the washing machine. And rarely if ever dry cleaned. No wonder these lovely and loved cotton weaves last a lifetime.
Jamdanis are the queen of Bengal cotton. Muslin jamdanis the king. To wear them against your skin is like being wrapped in flowers. The scent of Mughal gardens lives on in these weaves.
Welcome to the wonderful world of jamdani sarees. Read on.
We wish to thank the following persons for helping us with this issue: Mayank Mansingh Kaul, Bappaditya and Rumi Biswas, Darshan Shah, Santanu Das, Ruby Palchoudhuri, Debjani Majumdar, Ramen Basak, Gautam Basak, Sanjoy Pramanik and especially the Taneira team.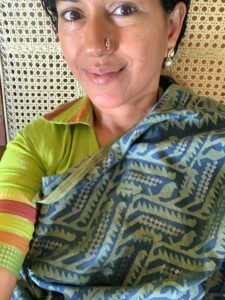 Shoba