The first time I saw a Chanderi saree must have been in the movies.
In South India where I grew up, Chanderi weaves were not common in the 80s. Then, Sanjay Garg entered the fashion landscape and changed all that. Today, Chanderi sarees are the choice of film stars and fashion wannabes. They have changed with the time, adopting colours and motifs that evolve continuously.

For this edition, I am wearing a Taneira saree with a lovely new motif. The jhumka or the jhimmiki as it is called in South India takes on a new avatar. It is made famous by this Malayalam song.

Welcome to the wonderful weaves of Chanderi! Let your journey begin. I hope you enjoy this edition as much as we enjoyed putting it together.
We wish to thank the following persons for helping us with this issue: Shrikrishna Somani, Aswin Gopal, Abdul Mubeen Ansari, Aminuddin Ansari, Bunty Goud, and the Taneira team.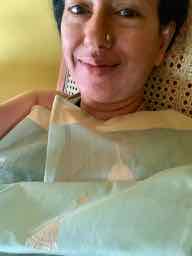 Shoba