The road to his home is through tiny clean cobblestone lanes. The doorway is unassuming.
But inside, as with many homes in Chanderi is a courtyard with guava trees (that local calls Jam fruit). A joint family: two brothers, their wives and children, live here together.
Abdul Mubeen is soft-spoken friendly man, who lives with his elder brother, Abdul Mateen in their family home. He tells us the economics of making a Chanderi weave. Setting up a jacquard loom costs about Rs. 15,000, he says. Once set up, it makes sense to weave a complex saree with lots of buttis on it. A pit loom, on the other hand, costs only Rs. 6000 to set up. It can be used to weave several sarees of pretty much the similar design.
So, if you see a simple saree that doesn't have complex buttis, it is likely that it is handwoven on a pit loom, like the one below.
"We work according to what is on trend," says Abdul Mubeen. "We find inspiration from photos, what film stars wear, from other designers, and through Whatsapp messages that are passed around the weaving community."
The family has been weaving for three generations. All the women in the family weave as well. The loom is the centre of activity, the hub around which the household revolves. While one woman weaves, the other parses wheat from chaff.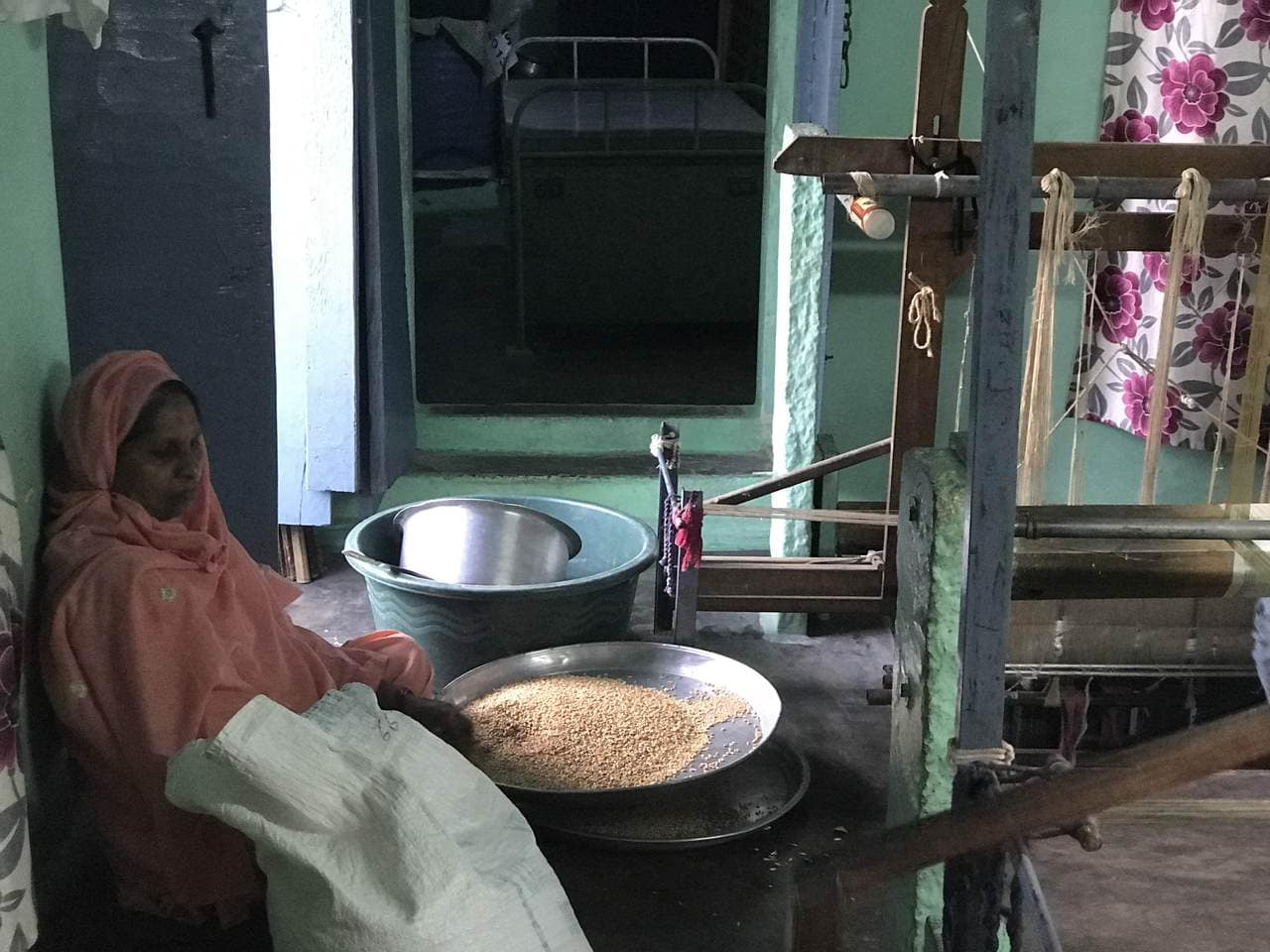 The question is sometimes asked: how do traditions and craft percolate down the generations? Sheer osmosis, say most weavers. Children hang around the house and pick up the craft, without effort, almost unconsciously. The daughter of the house, for instance, came back from school one day. She draws very well, said her mother, Kisbar Jahan, with obvious pride. We asked her to draw and so she did, with fluid ease.
Like Kisbar Jahan, her mother said, "I learned from my mother and my children are learning from me. When a thread breaks, we ask them to roll the two ends back together. When a bobbin falls, we ask them to pick it up. Then we tell them to roll yarn, then dye the yarn, and slowly start to weave. It is a lifelong learning."